Emyr Jones Enineering Ltd is proud to supply you a Hydraulic Ratchet scraper systems for dairy miliking parlours across Wales.
Automated slurry handling system for Wales brought to you from our supplier Dairy Power Equipment of Ireland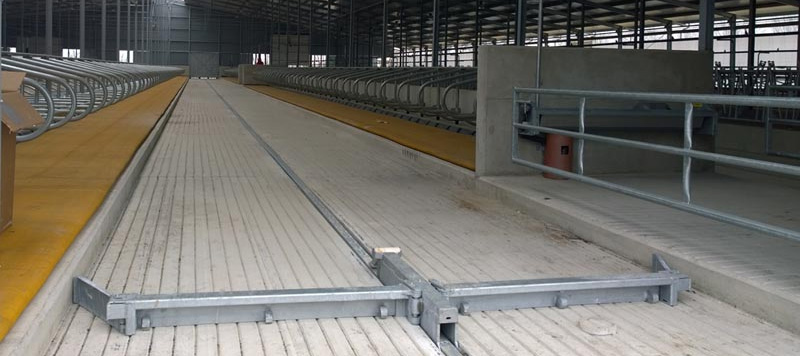 Main Benefits:
Low power consumption
Easy-to-use control panel
Animal friendly
All scraper equipment is hot dipped galvanized for maximum life expectancy
No electronic components in contact with slurry
Requires very low maintenance
Safe operation and simple functions
The system is operated by a low noise hydraulic power unit connected to a hydraulic cylinder for each passage. One power unit can operate up to 6 passages. The hydraulic cylinder is connected to a Rail/Track that moves back and forth, moving the scraper in steps along the passageway. The scraper moves in steps at low speed, as the scraper stops for a few seconds during the return stroke of the cylinder. The animals are not stressed, and they can easily move away or step over it. The system is operated by a very simple user friendly control box. Each scraper has its own timer and switch. It can be programmed to run individually or as one sequence. One sensor monitors the movement of the rams for a complete system. It has a safety feature which automatically switches off a scraper where an animal becomes immobilized and will not affect the other scrapers on the system. Also the scraper can be programmed to park in any position which the farmer chooses.
images of slurry scaper systems above used with permission from our supplier Dairy Power Equipment of Ireland.